Dental Implants – Tyler, TX
Re-Crafting Your Smile To Look
& Feel Completely Natural
Do you want to rebuild your smile to look and feel completely natural? Dental implants in Tyler are one of the most advanced tooth replacement solutions available to patients. Because they replace the entire structure of the tooth, including the root, they're able to provide a variety of unique benefits that help them stand apart from other traditional options. To learn whether you can benefit from dental implants in Tyler, TX, schedule a consultation with Dr. Markle today!
Why Choose Southern Oaks Dental
for Dental Implants?
In-House
Implant Placement
CT/Cone Beam
Scanning Technology
Putty-Free Digital
Impression System
What is a Dental Implant?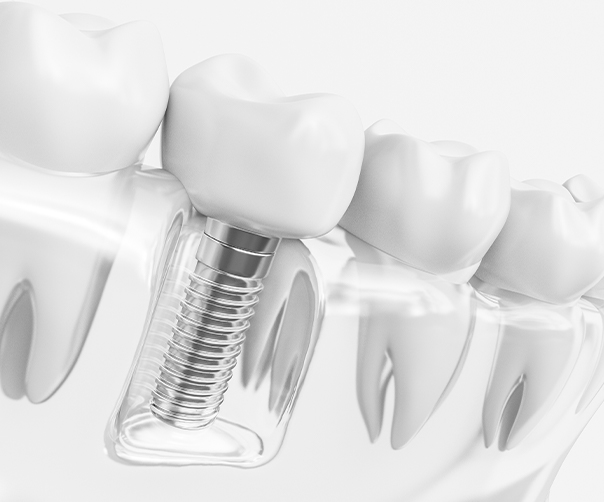 A dental implant is a titanium post that is surgically placed below your gumline to replace the root of your missing tooth. Due to the biocompatible nature of the material, it's able to undergo a natural process called osseointegration that allows it to chemically bond with your jawbone. This provides necessary support and blood flow to the structure to prevent sunken-in cheeks and jawbone deterioration. After the restorations are made, they're attached to the implants to complete your smile.
Benefits of Dental Implants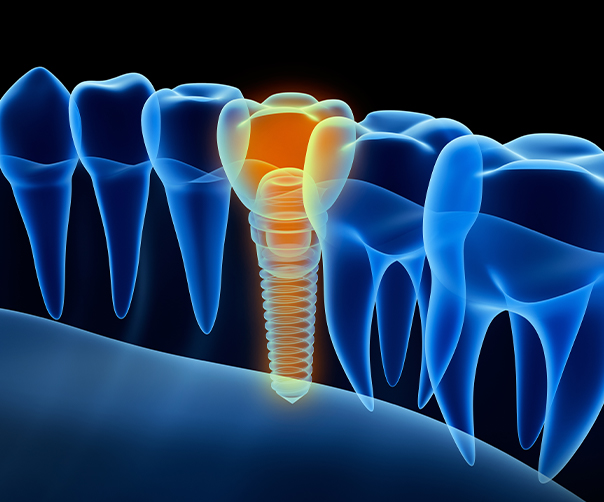 Unlike any other tooth replacement option, dental implants are able to replace the entire structure of your missing teeth, including the part that lies below the gums. This allows patients to reap several unique benefits, including some of the following:
Enhanced chewing strength
Eliminate slipping and shifting restorations
95 percent success rate
35+ year lifespan with routine maintenance
A natural look and feel
No alteration of surrounding, healthy teeth necessary
Jawbone preservation
Prevent drooping and sagging cheeks
To learn more about different advantages that dental implants can offer you, don't hesitate to contact our office today! With all of these great benefits, it's no wonder why it's a preferred treatment among patients and professionals alike.
Are Dental Implants Right for You?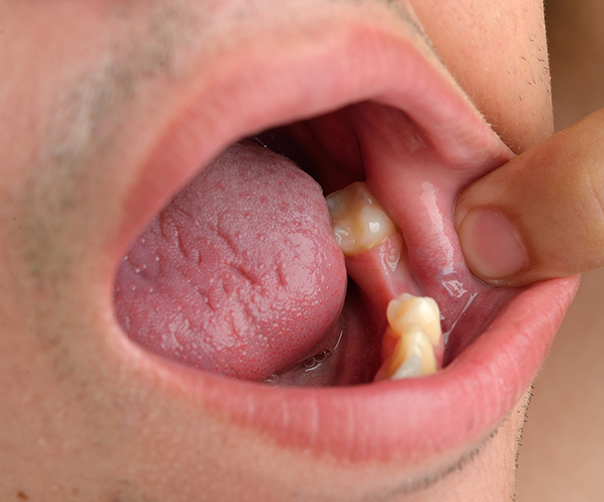 In order to qualify to get dental implants, the first step you need to take is to schedule a consultation with Dr. Markle. During your visit, our team will capture images of your complete facial structure with our CT/Cone Beam Scanner and conduct a visual examination of your teeth and gums. We'll be looking to make sure that you don't have any existing oral health problems that are untreated and to ensure that your jawbone will be dense enough to undergo the osseointegration process where your implants fuse with the bone.
If you aren't a great candidate right away, you may be able to get there by having your oral health problems treated and preparatory procedures such as bone grafting or a sinus lift. The only way to know is to visit our office so we can take a closer look at your X-rays and smile. During your visit, we'll also outline your treatment timeline with you so you know what to expect throughout the process.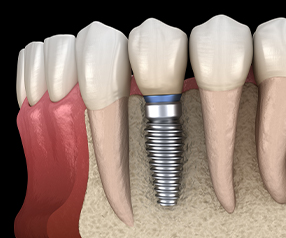 Missing Single Tooth
If you have a single gap in your smile that you need to have filled, we'll place one dental implant in that area below the gum. We'll then place a connector piece called an abutment on top. This will hold your custom-crafted dental crown that will restore your complete arch.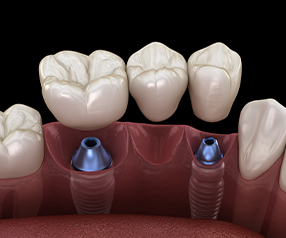 Missing Multiple Teeth
For several missing teeth in a row, we'll place two dental implants that will hold a bridge. They will be located at either end of the gap in your arch. Once the connector pieces are placed on them, we'll anchor your bridge. We can do this all without having to alter your natural, healthy teeth.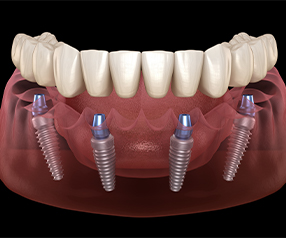 Missing All Teeth
For an entire arch of missing teeth, we'll place anywhere from four to eight implants in strategically-determined areas of your jawbone. These will hold a customized complete denture in place, so you won't have to worry about using denture adhesive or slipping and shifting restorations.
How Dental Implants Work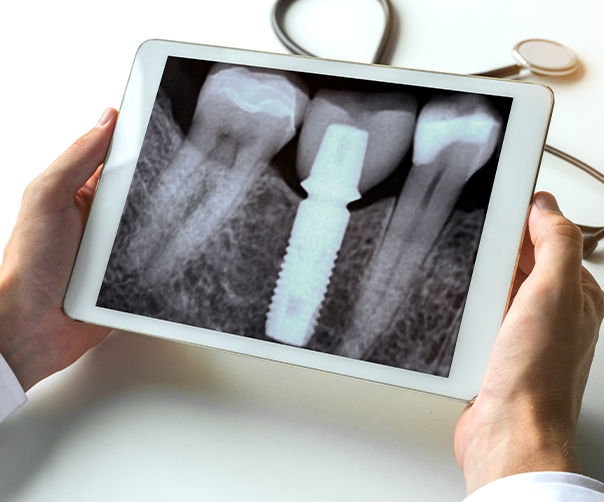 Dr. Markle is one of a small number of dentists who are able to conveniently complete the entire dental implant procedure in-office. That means that you'll be able to comfortably work with the same team you've grown to trust. First, we'll place the dental implants below the surface of your gums so they can fuse with your jawbone. Once the process is complete, we'll connect the abutment, which will hold the restoration in place, and finish your smile with your customized crown, bridge, or denture.
Understanding the Cost of Dental Implants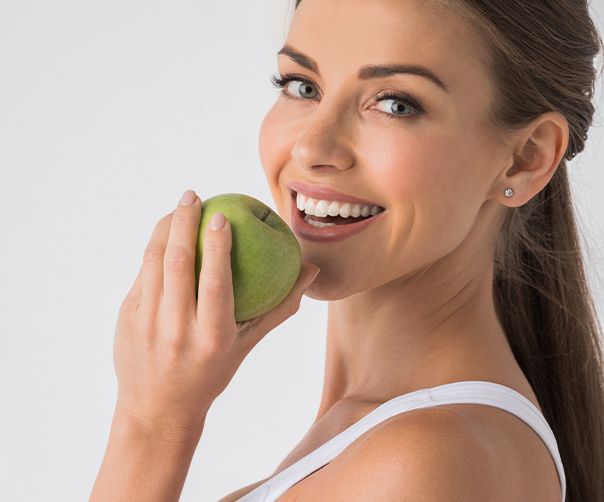 The dental implant process is hand-tailored to meet each individual patient's needs, which is why there's no singular price tag for the procedure. When you visit us for a consultation, we'll outline your treatment plan in detail, answering major questions about the cost, how many implants will need to be placed, and how long the total process will take. Our team will be happy to guide you through your financial options as well. Patients agree that it's a priceless investment that has the potential to last a lifetime with great care!