Dental Team – Tyler, TX
Get To Know
Our Friendly Team
All of our team members are dedicated to making each of your visits fun, exciting, and smooth-sailing. Together, they offer decades of experience under one roof, so you can trust that your family is in excellent hands. They are also all active members in the community and take great pride in caring for neighbors, friends, and family. To learn more about each of our hygienists, assistants, and front desk administrators, keep reading below!
Cristi
Patient Coordinator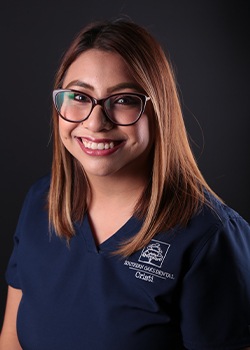 Cristi has lived in Tyler since 1998. She graduated from John Tyler High School in 2014 and began Tyler Junior College right after, she is currently a student at The University of Texas at Tyler. She joined our team in May of 2020 and has fallen in love with the daily relationships she builds with our patients and staff. Her favorite part of the job is that she is the first person of contact which allows her to bring a sense of peace to our patient's experience. In her spare time, Cristi enjoys walking her 2 corgis, traveling with her husband Anthony, reading and writing, and spending time with her family.
Shelby
Dental Hygienist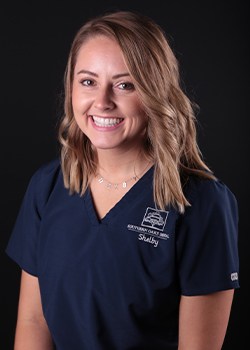 Born and raised in East Texas, Shelby attended the dental hygiene program at Tyler Junior College, graduating in May of 2015. She loves helping our patients achieve healthier, more beautiful smiles! In her spare time, she likes to hang out with loved ones and watch/play sports. She and her mom are always up for shopping and decorating together, but she also looks forward to lazy days at home with her four dogs.
Karen
Dental Hygienist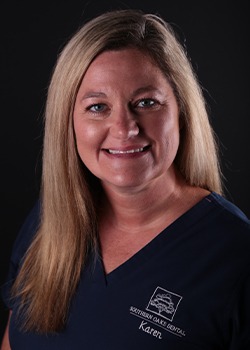 Karen is a lifelong resident of Henderson, TX, and her dental hygiene career spans a full two decades. She and her husband Jason have three wonderful daughters named Caroline, Summer, and Jolee. She loves her job and being able to help people in such tangible, long-lasting ways; each day is truly a blessing! She particularly enjoys caring for children, the elderly, and anyone who's anxious about visiting the dentist's office. Outside of work, she is a passionate member of the Bethel Bible Church in Henderson, where she served on the launch team and now teaches 4th/5th graders. As for personal hobbies, she likes to go to Aggie games, travel, and (of course) spend time with loved ones.
Amanda
Dental Assistant
Amanda has been working in the dental world for decades, including several years specializing in oral surgery. A lifelong resident of Henderson, she has three beautiful children at home. She enjoys her career because it allows her to help others become more confident about their smiles. She's built countless friendships with patients from appointment to appointment! In her spare time, she likes to hang out with loved ones, go antique shopping, and fish. She also regularly volunteers with the youth group at her church.
Barbie
Dental Assistant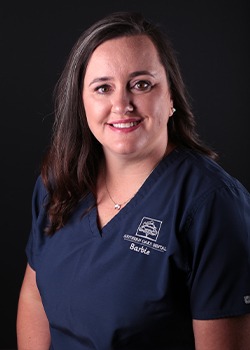 Barbie is from Tyler, and she and her husband Nathan have two beautiful girls. She has been a Registered Dental Assistant for well over a decade now. She loves working in this field and being able to help patients feel relaxed during their appointments. She also treasures the friendships she's developed with them over the years. Outside of the dental office, she likes to craft, go antique shopping, and spend quality time with her loved ones. She also regularly helps out the Girls in Action at Pleasant Hill Baptist Church.