Dentures – Tyler, TX
Enjoy a Beautiful Smile
If you've experienced significant tooth loss, you're not alone. At least 35 million Americans have lost all their teeth in one or both arches. Thankfully, you don't need to live with an incomplete smile. We offer the latest solutions for dentures in Tyler to restore your confidence and quality of life. You can rest assured knowing your new teeth will closely look and feel realistic to chew, speak, and smile without any worry.
Why Choose Southern Oaks Dental for Dentures?
Personalized solutions for each patient.
High-quality, durable materials.
Advanced technology for a comfortable fit.
Who's a Good Candidate for Dentures?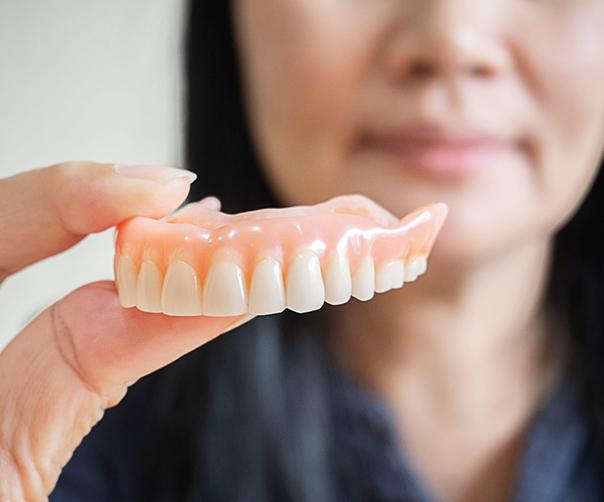 In truth, being a good dentures candidate doesn't take much. Almost anyone with missing teeth can qualify for treatment. Still, you'll need to consult Dr. Markle in person to know for sure. Only he can confirm whether dentures would really work for you. Even if they wouldn't, our office can help you qualify later by restoring the health of your gums and jaw. As for the other details of denture candidacy, just keep reading to learn more!
Effects of Missing Teeth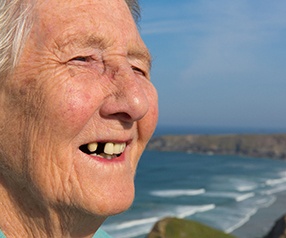 As you consider dentures, it's helpful to review tooth loss's causes and effects. This step lets you see how treatment can protect your health.
First of all, people lose teeth for a great many reasons. Sometimes a tooth decays so much that it falls out or needs extraction. In contrast, gum disease might wear down the bone and tissue securing your pearly whites. People could even have their teeth knocked out from an accident or injury.
Regardless of the cause, however, the effects of missing teeth are consistent. The condition typically makes eating, speaking, and smiling harder. Similarly, the resulting smile gaps will slowly erode your jawbone. That process, in turn, could trigger a facial collapse. It may even result in yet further tooth loss.
What Qualifies You for Dentures?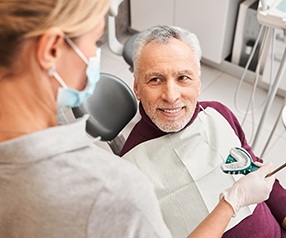 As stated before, most patients can qualify for dentures if they lack teeth. That being said, there are other relevant factors to consider.
One such element is your oral health. Dentures, you see, do more than replace already-missing teeth; they can also replace sensitive or decaying ones. On the other end, though, the restorations only work when a patient's gum and jaw tissues are healthy. Ideal treatment candidates thus need a commitment to proper dental care.
The number of teeth lost should also be noted. You'll need one of two possible denture types based on how many you lack. A partial denture, for instance, is best for replacing a few teeth. Meanwhile, a full model is only valid when all pearly whites along an arch are gone.
Even your finances can be a qualifying factor. Dentures, after all, are cheaper than other restorations. Therefore, they're a great option for patients on a tight budget.
Alternative Tooth-Replacement Options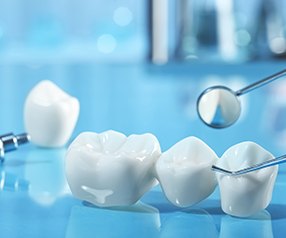 Don't worry too much if you're not a good denture candidate. Should that be the case, we have additional options. More specifically, Southern Oaks Dental has two other restorative services available. These include the following:
Dental Bridges – As fixed restorations, dental bridges are composed of crowns fused to a pontic. They thus require healthy surrounding teeth to work properly. Otherwise, a bridge lacks the necessary support.
Dental Implants – Unlike dentures or bridges, dental implants are prosthetics placed in your jawbone. They thus fuse with your jaw over time. This fusion process ensures they remain secure, but also makes treatment a tad expensive.
Learn More About Dental Bridges
Types of Dentures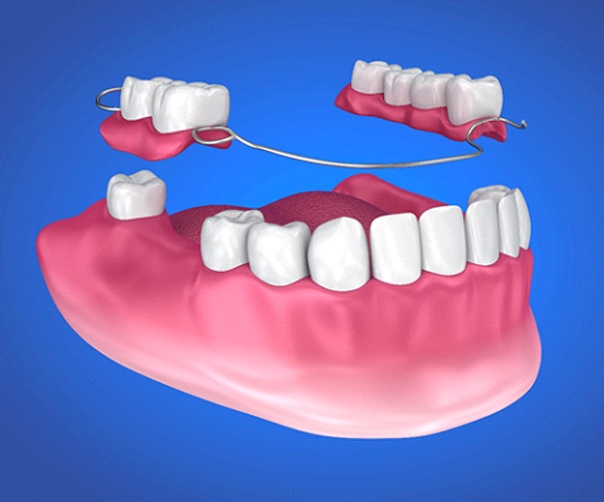 You have more options than ever to replace your missing teeth. We'll perform a thorough consultation to determine the extent of your tooth loss to create a personalized treatment plan. Based on your individual needs, you might be a candidate for:
Partial Dentures
If you still have a few healthy teeth, a partial denture may be right for you. Prosthetic teeth are fixed in a gum-colored base with a metal framework that allows it to clip onto your teeth. Your partial is carefully crafted to match the appearance of your natural teeth to blend in when you smile.
Full Denture
A full denture treats an entire arch of lost teeth. Prosthetics are set in an acrylic base that rests on top of your gum tissue. It's held in place using suction or an adhesive. Although they have a bad reputation for looking fake, new advancements have improved their fit and aesthetics.
Implant Denture
You can enjoy the next best thing to your real teeth by supporting your denture with 4 to 10 dental implants. Titanium posts are surgically placed into your jaw to anchor your denture to your bone.
Benefits of Dentures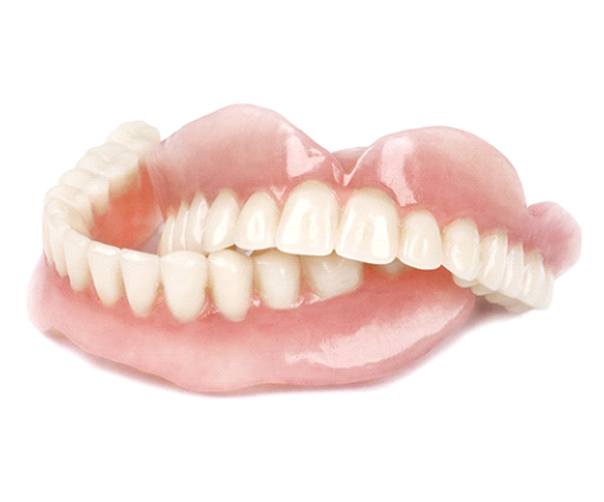 When you are missing several of your teeth, it can be challenging to complete daily tasks that you once found easy. This includes eating, speaking clearly, and smiling with confidence. Dentures are a life-changing tooth-replacement option for patients who are missing several, most of, or all of their teeth. If you've struggled with tooth loss, dentures may be your opportunity to get your smile back and experience the following benefits!
Psychological Benefits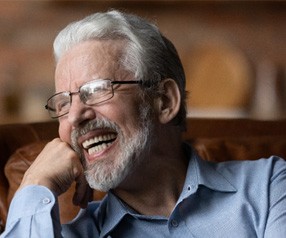 Edentulous people often have difficulty accepting tooth loss. With that comes effects on self-esteem and social life, as well as a higher risk of experiencing sadness and depression. People who are insecure about tooth loss are also less likely to engage in social activities. Fortunately, dentures can allow patients to experience increased confidence and self-esteem.
Clearer Enunciation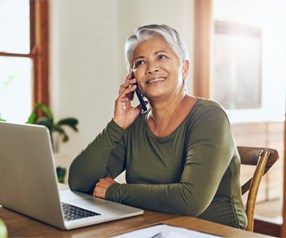 Missing teeth can make it more difficult to speak clearly. To pronounce and perform words, your lips and tongue need to be positioned properly, and if you aren't able to touch your tongue to your teeth, some words are very difficult to say. Because dentures act as your missing teeth, they allow you to enunciate more clearly. After a little bit of practice, your speech will sound perfectly natural.
Improves Nutrition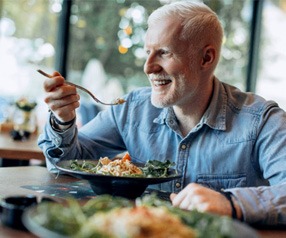 Many nutritious foods are tough in texture, like vegetables, fruits, and healthy proteins. When you can't chew your food thoroughly due to tooth loss, you can experience issues like indigestion and malnutrition. With an improved ability to chew, dentures allow for a more expansive diet full of nutritious foods.
Preserves Oral Health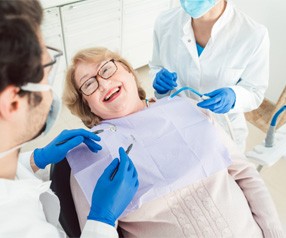 If you have some remaining natural teeth, getting dentures can help to prevent them from shifting to other areas of the mouth. Dentures also bear some of the weight of regular chewing, therefore reducing the wear and tear of the existing teeth.
Expands Opportunity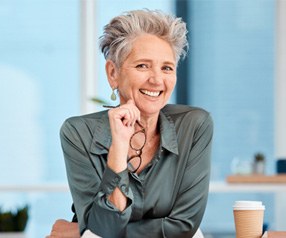 Your smile is one of the first things people notice about you. When it comes to job interviews, sales, and getting promotions, it's super important to make a good and lasting first impression. Having a complete smile does nothing but help!
Dentures Aftercare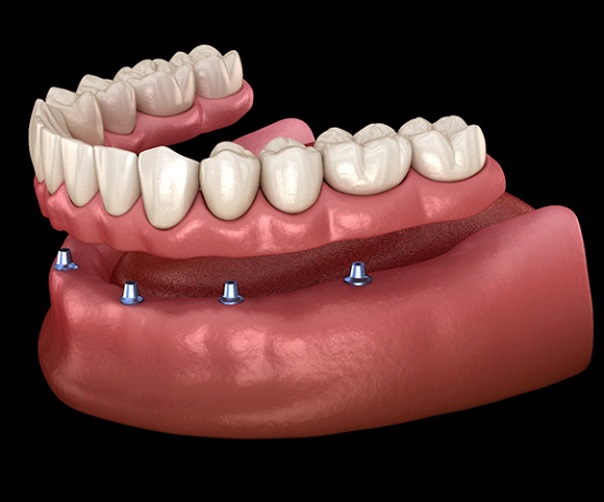 Although your dentures aren't subject to tooth decay, you still need to maintain your oral hygiene routine and take the time to care for your dentures each day. You can help promote the longevity of your new smile by following a few tips:
Removable Dentures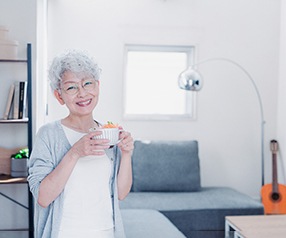 Remove After Eating
You'll need to make sure that you remove your dentures after eating each meal. It is too easy for food and other debris to build up underneath your prosthetics. If left unremoved, it can begin to irritate the soft oral tissues and cause problems to arise.
Giving your new teeth a thorough cleaning and rinse will ensure that it not only remains in the best possible condition but also that your gums remain bacteria-free throughout the day.
Clean Your Restoration
Cleaning your dentures is essential if you want them to last as long as possible. Stains can form over time, so if you want to ensure that they remain a beautiful white, it's best to use a soft-bristled toothbrush or denture-appropriate brush to clear away anything that might be left on your dentures before going to bed.
All you need is a toothbrush and clear soap (or non-abrasive toothpaste) to keep your new teeth looking as good as new.
Keep Your Dentures Safe
Wearing appropriate mouth protection is the best way to minimize your risk of potential damage. If you choose to engage in any type of sports, it's important that you wear a custom mouthguard so that your teeth remain protected against a sudden fall, accidental hit, or any other unnecessary pressure. The same can also be said if you suffer from bruxism. Wearing a custom nightguard can help to create a barrier between your upper and lower arches of teeth, keeping your real and artificial teeth safe from damage.
When cleaning your dentures, you'll need to make sure that you place a towel in the basin of the sink just in case they slip out of your hands while cleaning.
Remove Dentures When You Sleep
Before going to bed, you'll want to make sure to remove your dentures and place them in a glass of water that is mixed with denture cleaner. This solution will help to break down bits of bacteria and harmful particles that have been residing on your dentures throughout the day.
Allowing your teeth to soak overnight not only ensures a thorough cleaning but also gives your bones and gums a rest. Throughout the day, they can become fatigued because of the new teeth that rest on top. By allowing them to breathe throughout the night, vital nutrients can be restored.
Notice Changes
While wearing dentures, it's normal to notice that some slight changes might occur. Because there are no tooth roots to stimulate the jawbone, it's not unlikely for bone resorption to occur. When this happens, you'll need to contact our dental office right away to inquire about relinement or a replacement denture to avoid oral sores, lesions, or other potential problems.
All-On-4 Dentures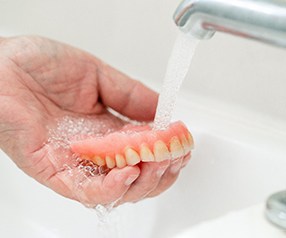 If you have All-On-4 dentures, you'll need to make sure that you also take proper care of these teeth, even though they are held in place by four dental implants. Offering stimulation to the jawbone, you won't have to worry as much about bone resorption; however, you still need to be mindful of keeping your mouth clean, as gum disease can still be an issue.
Cleaning with a soft-bristled toothbrush and non-abrasive toothpaste is best, and you'll want to make sure that you use dental floss to move around your implant posts to keep bacteria from building up and attacking your gum tissues. You'll also benefit from a mouthwash that can help to flush away harmful particles inside your mouth.
Understanding the Cost of Dentures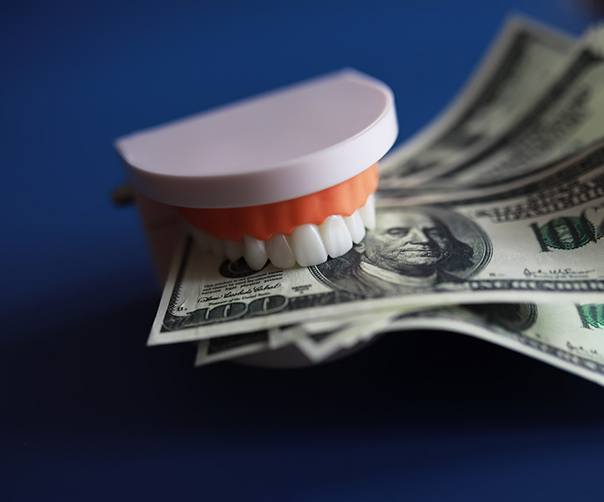 Even if you need dentures, you may worry about their (potential) price. That's a fair concern – you can't benefit from treatment if it "breaks the bank." In reality, though, the cost of dentures varies by patient. You'll need to consult Dr. Markle for a more precise estimate. Once you have, we at Southern Oaks Dental will work to make your care affordable and effective. Our team will even guide you through denture cost factors and possible payment options. For more information, keep reading or call our office for details.
Factors That Affect the Cost of Dentures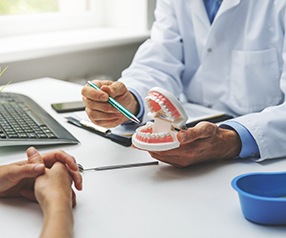 At the initial consultation, our office will give you an oral exam. This step will (among other things) review the factors relevant to denture price. Such things include the following:
Denture Base Material – Depending on the acrylic used, a denture's base can cost more or less. The more durable and lifelike its plastic is, the greater its expense.
Replacement Teeth Quality – A denture's artificial teeth are made of acrylic or porcelain. The former material is cheap but wears quickly, while porcelain costs more but lasts longer.
Need for Prep Work – If you need preparatory services before getting them, dentures will cost more. For example, pulling a tooth before receiving the prosthetics will add to your costs.
Even as our office explains these factors, remember: don't just default to the cheapest dentures. Those that cost little use subpar acrylic. Instead, ensure the dentures you choose are high-quality and effective!
Are Implant Dentures More Expensive?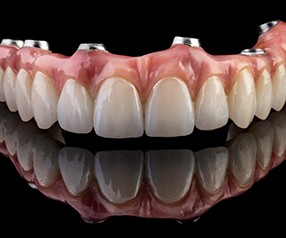 True, implant dentures have a higher upfront cost than other kinds. Even so, this elevated price is pretty well-justified. Implant dentures have benefits that other restorations don't.
For starters, implant dentures rely on dental implants – prosthetic teeth that fuse with your jaw. Given how said prosthetics work, the overall appliance is secure, permanent, and won't slip or fall. Its porcelain surfaces also look very natural and lifelike.
Financially, dentures also make for great long-term investments. Their implants can last 15-30 years, meaning they need few repair or replacement fees. Therefore, their high upfront price is offset by the money you save down the line.
Does Dental Insurance Cover Dentures?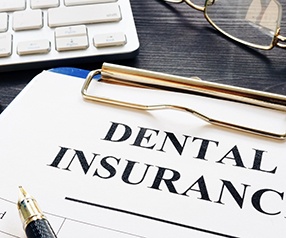 Often enough, dental insurance does cover dentures. It considers such tooth replacement as a "major procedure." As such, a given plan provider will match 50% of the treatment's cost.
All the same, keep in mind that exceptions exist. Some policies limit their denture coverage. Given this fact, confirm your plan's benefits before treatment. Our office can even assist you in doing so.
Other Options for Making Dentures Affordable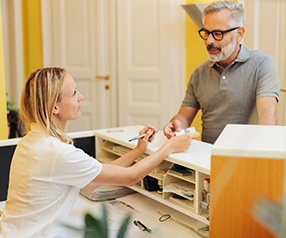 There are ways besides insurance to make dentures affordable. Many dental practices offer helpful payment options. With the right one of these, prosthetic teeth can be more budget-friendly.
For example, consider our own Southern Oak Dental. We happen to provide services like:
Special Offers – Right now, our practice is offering a dental implant promotion. By acting on this offer, you can pay as little as $340 per month for implants.
Flexible Financing – We accept third-party financing from CareCredit. Through them, you could pay for dentures with monthly low-interest installments. The result would be a treatment cost that you cover gradually.
To get other details on budget-friendly dentures, book a consultation with our office. We'll happily explain how we can restore your smile affordably.
Denture FAQs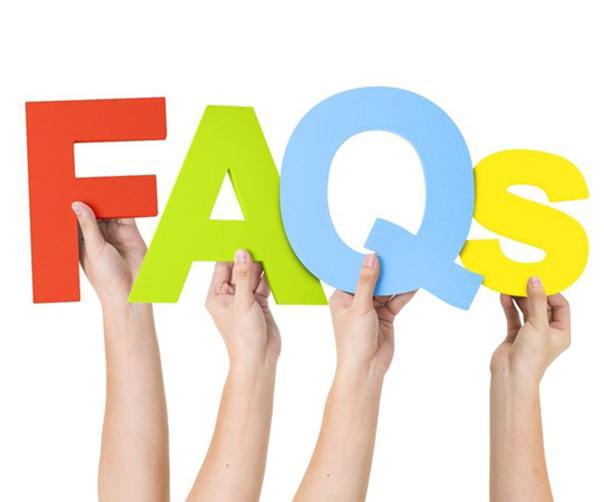 Are you exploring different ways to replace your missing teeth? You can learn more about dentures in Tyler by checking out the frequently asked questions below! From the average age for dentures to what foods to avoid when wearing false teeth, we cover many of the hot topics. If you have any additional questions about dentures, do not hesitate to schedule a consultation at our office with Dr. Markle.
What is the Average Age for Dentures?
People of all ages can potentially be candidates for dentures. That said, tooth loss is far more common among older patients. According to the National Center for Health Statistics, about 66% of adults between the ages of 40 and 64 are missing at least one tooth, compared to only 33% of adults aged 20-39. Since the need for false teeth increases as you age, it should come as little surprise that over half of all people aged 65-74 wear some form of dentures, according to the American Dental Association.
Can I Use Regular Toothpaste to Clean My Dentures?
Keeping your dentures clean by brushing them every day is very important. However, you should not use regular toothpaste to do so, as it can leave microscopic scratches on the surface of your dentures. Instead, use hand soap, mild dishwashing liquid, or a specialized denture cleaner to brush your dentures. In addition, choose a soft-bristled toothbrush over a hard-bristled one.
What Can't You Eat with Dentures?
While you can eat many of your favorite foods with dentures in Tyler, you will likely have to make some slight adjustments to your normal diet. Certain foods can be harder to chew with dentures or can even damage your false teeth. For example, sticky foods like peanut butter and gummy worms can pull your dentures out of place. Nuts, popcorn, apples, corn on the cob, and other hard foods can damage or dislodge dentures. While you do not have to avoid these foods entirely, you should limit how often you eat them and take extra precautions when you do. Lastly, tough meats like steak or pork chops require an excessive amount of chewing. This can put a lot of stress on both your dentures and your gums.
Can I Sleep with My Dentures?
In general, it is recommended that you take your dentures out every night when you go to bed. Your gums need a break! Wearing dentures restricts the circulation to your gums, leading to soft tissue irritation and potentially speeding up ridge resorption. Taking your dentures out nightly give your gums a chance to rest and recover. Dentures should also be removed for oral hygiene reasons. Bacteria thrives in dark, moist spaces like the underside of dentures. For this reason, sleeping with dentures has been found to be associated with a higher risk of pneumonia.
How Much Do Dentures Cost?
Dentures are one of the most affordable ways to replace missing teeth. The final cost of your full or partial dentures will depend on a number of factors, such as:
The number of teeth you want to replace
The quality of materials used to craft your dentures
Whether any remaining teeth need to be extracted
Your dental insurance coverage
Every smile is unique. The best way to determine if dentures are right for you is to schedule an initial consultation with Dr. Markle, an experienced denture dentist in Tyler. He will thoroughly examine your teeth, create a custom treatment plan, and provide you with an accurate cost estimate.
Complete Your Smile Today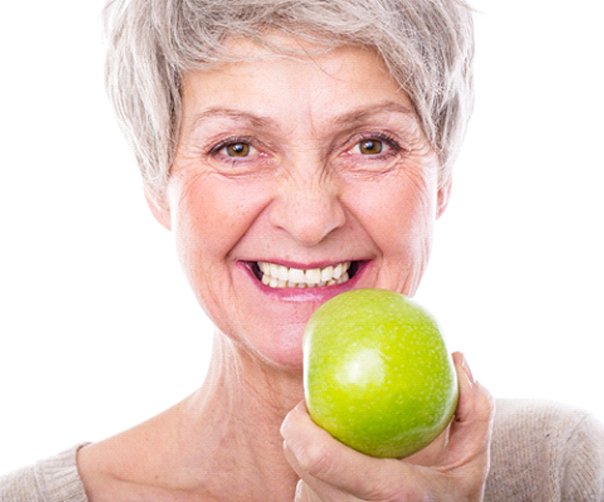 If you're ready to love the smile you see in the mirror, dentures may be an option for you. Contact our office today to schedule your consultation to treat your tooth loss. We'll create the individualized plan you need to smile confidently and enjoy your favorite foods again.