Free Smile Makeover Consultation - Tyler, TX
Get The Confidence-Boosting Smile You Deserve
Do you have several different cosmetic flaws that are impacting your confidence? Visit us today for a free smile makeover consultation to learn how our experienced team can enhance your grin. Whether you face dental damage, discoloration, or even misalignment, Dr. Markle offers a variety of custom-tailored treatments that can renovate your smile to look just as you'd like it.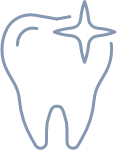 Cosmetic Dentistry Promotion
FREE
Smile Makeover
Consultation
Come in, meet Dr. Markle, discuss treatment options.