December 14, 2020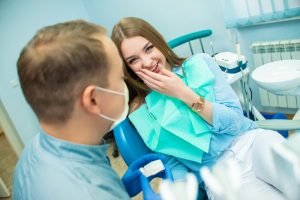 Are you looking for a way to fix your crooked teeth? Your cosmetic dentist in Tyler has plenty of options to choose from, but this is not a decision you should make lightly. Two of the most popular options, veneers and Invisalign, can go a long way in helping you achieve a straight smile, but is one of them better than the other? How can you make the choice? Continue reading as we go over the difference between Invisalign and veneers.
How Invisalign Works
Invisalign is becoming an increasingly popular alternative to metal brackets and wires. This system uses clear braces in Tyler to gently shift your teeth into their ideal positions. You'll wear each set of aligners for a week or two before switching to a new pair. Plan on wearing the trays almost 24/7. Essentially, you should only take them out to eat, drink, or clean your teeth.
Benefits of Invisalign
Here are some of the many reasons why patients choose Invisalign:
Corrects many alignment problems: Invisalign can fix many orthodontic issues, including crooked or gapped teeth, overbite, underbite, and crossbite.
Practically invisible: The trays are clear enough that no one should be able to notice them.
Removable: Taking the trays out when it's time to eat, brush, or floss eliminates the restrictions of traditional braces.
Comfortable: Unlike brackets and wires, the smooth plastic aligners shouldn't irritate your gums, tongue, lips, or cheeks.
How Veneers Work
A veneer is a thin porcelain shell that is cemented to the front surface of a tooth, instantly masking all of its aesthetic flaws. They can correct crooked, gapped, or slightly rotated teeth as well as stains, chips, or cracks.
Benefits of Veneers
By choosing veneers in Tyler, you can expect the following benefits:
Versatile: Veneers can conceal all manner of cosmetic imperfections, including discoloration, misshapen teeth, and minor misalignment.
Protection: If some of your enamel has worn away, veneers can protect your tooth from future erosion as well as sensitivity.
Long-lasting: Maintaining proper oral hygiene can help your veneers last as long as 20 years before they must be replaced.
So, Which One Should You Choose?
Both options are great for fixing crooked teeth, but your choice should depend on your overall smile goals. If you only have one or two crooked teeth in the front of your smile, then veneers might be the way to go. However, if your smile has more complex alignment issues, you may want to ask your cosmetic dentist in Tyler about Invisalign.
By doing your research and discussing your options with your dentist, you will be able to find the solution that's perfect for your unique smile. Whether you choose Invisalign or veneers, you're sure to love the results!
About the Author
Dr. Travis A. Markle obtained his dental doctorate nearly 20 years ago from the University of Texas Health Science Center in San Antonio. Since then, he has become a Fellow of the Academy of General Dentistry and an Associate Fellow of the American Academy of Implant Dentistry. He also has training in orthodontics and cosmetic dentistry, so he can provide veneers as well as Invisalign. To find out which one is right for you, you can contact Dr. Markle at 903-597-7902.
No Comments »
No comments yet.
RSS feed for comments on this post. TrackBack URL
Leave a comment