January 19, 2021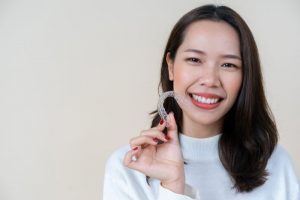 If you're looking for a way to give yourself a straighter smile, congrats! You have more options than ever before when it comes to orthodontics. Of these many solutions, there are two that are incredibly popular due to their discreet appearance and treatment speed: Six Month Smiles and Smile Direct Club. They both offer patients straight teeth in less time than traditional braces, so how do you know which one is better? Read on to get a truthful comparison of Six Month Smiles vs. Smile Direct Club.
But First, a Quick Overview
Six Month Smiles have always offered clear, more discreet braces, which involve translucent plastic brackets that hold a wire in place. This option is much less obvious than traditional braces. However, Six Month Smiles recently added clear aligners to their treatment options, which is like the product Smile Direct Club offers—clear aligners mailed directly to your door.
The Pros of Smile Direct Club
Designed for the busy, young adult, Smile Direct Club is incredibly affordable with the average treatment price under $2,000. Plus, you don't have to visit a brick-and-mortar practice. Instead, you'll have a virtual consultation, where you'll take images of your smile. Then, your aligners are mailed to your home, where you'll begin treatment.
The Cons of Smile Direct Club
If Smile Direct Club sounds too good to be true, that's because it is! This option can only treat mild to moderate misalignment, so if you have any issues with your bite, you're out of luck. Additionally, you'll never see an orthodontist or dentist in person, which makes it easy for an issue to occur and go unchecked, leading to more extensive and expensive treatment in the future.
Why Six Month Smiles is the Best Option
While Six Month Smiles often come with a higher price tag compared to Smile Direct Club, their benefits are well worth it. In fact, by avoiding the potential issues that come without getting personalized, 1-on-1 attention, you could even save money. No two smiles are the same, but Six Month Smiles can typically deliver the fastest results. Plus, they have braces and aligner options, which means even patients with more severe misalignment can enjoy treatment. The best part is that Six Month Smiles is just as discreet as their competitors, so you can still flash your grin in social or professional settings without embarrassment.
Nobody wants to put their teeth at risk when they're already trying to fix their misalignment. That's why you can trust your dentist to provide you with effective, predictable, and discreet Six Month Smiles!
Meet the Dentist
Dr. Travis A. Markle has been providing high quality care for the Tyler community since 2006. With nearly two decades of experience as well as training in Six Month Smiles, Dr. Markle is ready to help you achieve the grin of your dreams. To schedule an appointment, he can be reached through his website or by phone at (903) 597-7902.
No Comments »
No comments yet.
RSS feed for comments on this post. TrackBack URL
Leave a comment