April 20, 2021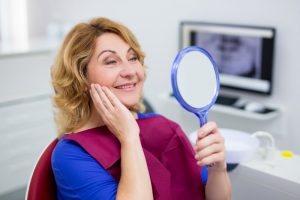 When you've been living with teeth missing for a prolonged period of time, a set of dentures is a welcomed addition. Unfortunately, they don't last forever. In fact, dentures in Tyler can often become worn, needing repair or replacement. So you don't have to endure discomfort or other problems associated with failing dentures, here are some of the warning signs to be on the lookout for.
A Poor Fit
As time goes by, you can expect the shape of your jaw to change, which means your dentures will fit differently. If they become loose or normal tasks like chewing and speaking become a chore, you should reach out to a dentist to be examined.
Broken Teeth
Dentures can fracture if they're dropped or too much force is applied when chewing. In some cases, you may be able to get away with a repair, but broken teeth usually require a full replacement.
Pressure Sores
Improperly fitting dentures can cause pressure sores to develop. They'll mostly appear on the parts of the gums where the dentures apply the most pressure when you bite down. The appearance of a pressure sore is a clear indicator of a poor fit and the need for new dentures.
Discolored Dentures
Failing to practice proper and consistent oral hygiene can lead to stained or discolored dentures. This can also be brought on by heavy consumption of coffee, tea or dark wine while wearing them.
Chipped Denture Base
If the denture base becomes cracked, chipped or otherwise damaged, it should immediately be replaced. Otherwise, you could be subject to an injury.
Chronic Pain
As your mouth attempts to adjust to a new set of dentures, it's common to experience some initial discomfort. If it persists and leads to sores in the jaw and along the gums, you may need a repair or replacement.
Gum Irritation
If you're experiencing some minor denture discomfort, a dentist can sometimes make minor adjustments. This should result in the dentures fitting more comfortably. If any sores, raw spots or soft tissue bleeding persists, it could be a sign that the dentures need replacement.
Maybe It's Time to Consider an Alternative
There's no denying the fact that traditional dentures serve their purpose of replacing missing teeth and restoring a level of functionality. However, there is a more effective route for you to take: implant-retained dentures. Instead of using pressure and adhesive to secure their position, implants are surgically inserted into the jawbone to ensure a lasting, attractive and fully functional smile.
When you visit your local dentist, you can learn more about the procedure and undergo a full examination to find out if you're eligible for it. Whether you choose to have your dentures repaired, replaced or upgrade to dental implants, what's most important is that you take action.
About the Author
Dr. Travis A. Markle graduated from the University of Texas Health Science Center in San Antonio. An avid learner, he has completed advanced postgraduate coursework with Spear Education and the Dawson Academy, earning him recognition as a Fellow in the Academy of General Dentistry. A member of the Southwest Academy of Restorative Dentistry and other professional organizations, Dr. Markle replaces missing teeth with dental implants at Southern Oaks Dental, and he can be reached for more information or to schedule a visit through his website.
No Comments »
No comments yet.
RSS feed for comments on this post. TrackBack URL
Leave a comment