August 30, 2021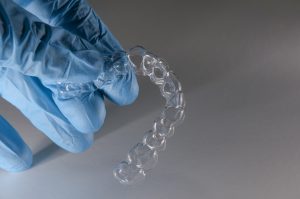 It's never too late to invest in a beautiful, straight smile. If you missed your chances for braces as a teen or you've experienced regression, you might be a candidate for Invisalign. You won't need to worry about brackets or wires because clear aligners are worn over your teeth to move them. Not only does this make the treatment less noticeable, but you'll also enjoy quicker results. On average, most patients are finished with their series of aligners in 12 to 18 months; however, various factors influence the duration of your treatment. Here's what the Invisalign timeline looks like, and how long you can expect the process to take.
1. Consultation and Preparatory Work
Although Invisalign in Tyler can treat a multitude of bite and alignment concerns, it's not right for everyone. As a result, you'll need a consultation with your dentist to assess your smile and ensure your teeth and gums are healthy. They'll create a personalized strategy, which may include preparatory procedures, like a cleaning, filling, or periodontal therapy. Depending on your needs, this can take anywhere from a single appointment to a few weeks.
2. Planning and Beginning Treatment
Once your smile is healthy, your dentist will take images and impressions of your mouth to get the information necessary to straighten your smile. The digital images integrate with state-of-the-art software to map the movement of your teeth. The information is fabricated to a series of aligners, which are worn over your teeth for at least 22 hours per day. You'll switch to a new aligner in the series every 1-2 weeks. Although you won't need adjustments, you'll need to see your dentist every few weeks to monitor the progression of your smile.
3. Completing Your Treatment
No two mouths are the same, which means your journey to a straight smile can take a little longer or shorter than others. Several things influence the timeframe for your treatment, such as:
Age: Older patients often need aligners longer than teens because their bones have finished growing.
Complexity: A person who needs to make major adjustments will require more aligners, so their treatment will take longer than a patient who is only making minor changes.
Patient Compliance: Following your treatment plan is crucial to preventing unnecessary delays, like switching to a new aligner on time.
Alignment Concerns: The nature of your alignment concerns influences the length of your treatment. Overcrowding can be resolved in about 6 months, while gaps can take a little longer to correct.
You can ensure nothing prolongs your treatment by committing to the plan laid out by your dentist. With a little patience, you'll have the straight, healthy smile you want in no time.
About Dr. Travis A. Markle
Dr. Markle earned his dental degree at the University of Texas Health Science Center before continuing his training in general dentistry. He has completed additional education at many prestigious institutions, including Spear and Dawson Academy. If you're interested in Invisalign, contact our office today to schedule your consultation.
No Comments »
No comments yet.
RSS feed for comments on this post. TrackBack URL
Leave a comment